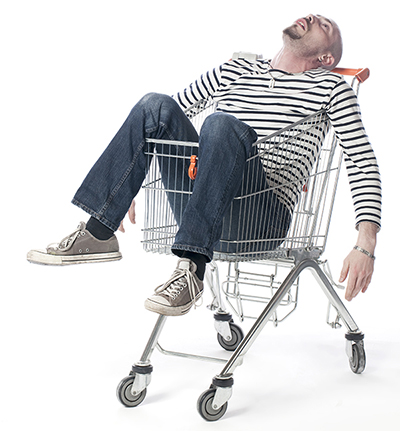 Consumer Marketing Fatigue: How Much Is Too Much?
July 10, 2020
How to Build Social Media Audiences: Keys to successfully develop influencers and ROI
By Robert S. Graham – Chief Executive Officer – ROI Global Partners, LLC
Authenticity is one of the most important marketing efforts any brand can invest in. Around 90% of consumers say that it's a critical factor for them when making a purchase decision. But in a world where consumers are understandably wary of fake news, social media scandals, and advertising messages from brands, how do you foster authenticity?
One answer is that you do it via influencer marketing inside the consumer community itself.
Influencer Marketing Isn't Dead
But wait, isn't influencer marketing dead? For the past few years, so-called marketing experts seem to be declaring it so. Some people point to Instagram moving from time-ordered posts to algorithm-ordered posts while others lay the "death" of influencer marketing at the feet of celebrities such as the Kardashians. Too many scandals, over-saturation of influencer feeds, and general public wariness have all combined to make influencer marketing irrelevant, says today's marketing wisdom.
Except influencer marketing isn't dead. You can still reach deep into consumer communities with messages from the right influencers. These aren't necessarily celebrities; they're organic leaders within the community.
Discover how to find these authentic influencers below and get some tips for maximizing your ROI once you do.
5 Steps for Finding Authentic Influencers
Historically, brands looked for potential influencers that had a lot of followers and large numbers of likes, shares, and comments on posts. These are known as vanity metrics, and they don't actually help you understand whether someone:
Is the right fit for your brand
Speaks organically and with authority into the community you're trying to message
Even built their following in an organic and sustainable way — some of those hundreds of thousands of followers could be bots…
Instead of relying on these metrics, follow the steps below to find truly authentic influencers by building community intelligence.
1. What is your target audience community?
First, define your target audience. You can start by answering the following questions.
Who is your ideal consumer?
Age range
Income range
Geo location
Career type
Family status
Likely interests
Where is that person likely to be found online? Use demographics for various social networks as well as your own experience as you check out options. For example, Snapchat tends to target teens and 20-somethings while the Instagram user base ranges from teen to early 40s with some outliers. Facebook, on the other hand, is now used more often by adults in older generations such as Gen Xers and Baby Boomers.
What challenges does your target consumer face and how does your brand, service, or product help solve them?
2. Join the community and get the lay of the land.
Once you know who your ideal consumer is, you know who your ideal community is made up of. Start looking for those people online and join the community so you can get the lay of the digital landscape. You want to note:
How the people within this tribe communicate with each other
How they communicate with and about brands
What types of themes repeat in posts
Whether the community engages in contests, follow loops, or social media games
By understanding the trends within the community, you're better able to craft messaging that resonates with your target audience.
3. Harvest data and create profiles or personas (targets) of the organic leaders within the community.
Look for accounts that seem to speak for or to the community in general and are readily received by others. Some signs that someone is an organic leader within a community include:
People are sharing their posts, especially with comments that agree with the sentiments or encourage others to check them out
Their posts garner comments and responses that indicate people look up to them, believe in their message, or feel seen by their message
They share the posts of others and support others within the community
They use hashtags that seem relevant to the community as a whole or even create new hashtags that are picked up by others
They seem to set the tone or trends within the community, which means they're often the first ones to post about topics or their opinion is often picked up and carried by others in the community
Organic leaders don't necessarily need a ton of followers. You can find someone with a thousand followers who has more sway in the target community than someone else with a hundred thousand followers.
4. More Data Harvesting: Make lists of common tags, traits, and characteristics among community leaders.
Once you have a list of people you believe are organic thought leaders within your target community, start comparing their accounts and profiles. What do they have in common that can help you define what your ideal influencer might look like? Make a list of:
Tags these people use to communicate with their tribe. You can't assume that everyone follows everyone else; many times — especially on Instagram — people follow the tags they're interested in rather than the people.
Traits that tie the potential influencers together. Are they all mom bloggers? Do they share a faith or business goals? Are they from the same region or interested in the same things? These traits help you understand whether the influencers actually match up to your target audience and they help you hone in one what your audience is most interested in hearing about.
Common characteristics of the influencers' posts. If someone has risen as an organic thought leader in a space, they've already done the trial-and-error testing with their brand. Whether purposeful or not, they've figured out whether the target audience responds best to humor, real talk, memes, first-person stories or other forms of social communication. You can use that information to best position your message when you're ready to launch influencer marketing.
5. Validate the influencer with your brand messaging.
Finally, before you choose influencers to approach, do a final validation to ensure their brand matches yours. You and your influencer don't have to agree on everything — after all, you want authenticity consumers can trust, not someone that looks like a brand puppet.
But you also don't want an influencer that's at odds with a core value of your brand. Look through old social posts, blog and website content, and profile and about pages to ensure the person is a good fit.
What to Do Once You Find Good Influencers
It's tempting to go big or go home with influencer marketing. If you can get a popular celebrity to endorse your products, that's all you need, right?
Not exactly. First, that potentially puts a lot of your marketing eggs in one basket, because celebrity influencers can be expensive. And since it's not even guaranteed to work, that's a big risk.
Second, even if it does work today, the internet is fickle. The celebrity could fall out of favor or the message could be swallowed up in other offers and content on their channels.
Instead, choose a few influencers and follow the steps below to ensure you're getting good return on your investment.
1. Offer them appropriate compensation.
Offer compensation that's in line with your business goals and what you're asking influencers to do. If you're not sure where to begin, start small and increase your budget as you need to attract viable influencers.
In some cases, you might just want them to use your products and talk about them occasionally. Free products and discount offers for their followers may be appropriate compensation for that, especially if you're targeting influencers with small but very specific followings.
Other compensation options might include:
Money
Brand perks, such as swag, tickets or trips to conferences
Recognition on your pages and profiles that helps them build their following
The ability to call themselves brand ambassadors for your company
2. Provide brand messaging but allow them to relay it in their own voice.
Using all of the research conducted in the steps above, create brand messaging that aligns with the community at hand. If the community is interested in sharing products, your messaging might be product-oriented. But in communities that are more interested in sharing stories or helping each other, consider framing your message in these lights.
Leave plenty of room for the influencer to put their own spin on things, though. You should make the mission and message of your brand clear and ensure they aren't going to sully your reputation. But you should also let them speak plainly and authentically. Maybe the price does seem high to them, and they're honest about this with their followers. But they follow that up by explaining why the price is worth it.
Influencers don't have to follow some of the same rules of marketing you do. They're allowed to bring up a potential concern or negative while also presenting an overall positive message about your product or service — that's what makes their message ring so true and authentic. But that truth can't shine through if you dictate everything influencers can and can't say.
3. Continue to test using a variety of metrics.
Finally, once you get good influencers and see that this marketing effort is working, don't assume the channel will run itself. Continue to test ROI on real metrics — not just vanity metrics such as likes and follows.
Test whether your influencers are generating leads and whether those leads convert. And don't be afraid to start this process all over again to find new influencers in the future. The social world evolves quickly, and it's always a good idea to look for the new voices in any community.